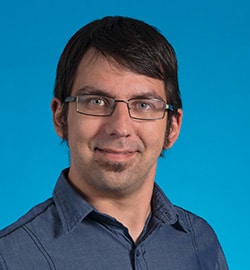 Ryan M. Mayo – Graphic Designer
Contact:
204.975.8212
---
Ryan is an expert at delivering stunning and effective designs that inspire action.
Whether working online or in print, Ryan creates materials that are memorable, easy to navigate, and a pleasure to use.
Ryan has been working as a professional designer for over a decade and has developed numerous logos, websites, signs, and publications.
He also has printshop experience, which helps him ensure top-quality production of print materials for Strauss's clients.
Ryan is adept at producing custom web designs as well as working with templates and platforms such as WordPress.
Since joining the team at Strauss, Ryan has worked with the Rotary Career Symposium; the Pedorthic Association of Canada; the Canadian Athletic Therapists Association; The College of Pedorthics of Canada; the Rady JCC "Y" Sports Dinner; and the Registered Psychiatric Nurses of Canada.
Ryan has a diploma in Graphic Design and Advanced Graphic Design from Red River College.
My greatest excitement as a graphic designer is to listen to clients' ideas and, through dialogue, turn what they imagine into something concrete that isn't just attractive, but also something that helps them achieve their goals.
Ryan's Blog Posts
Redesigning a website takes a lot of planning and forethought. There are a lot of…
COVID-19 has changed work for everyone. Front line workers are working harder than ever and…
The proper software for your association can make work efficient and simple, however the wrong…