Programming innovation, sound financial management, member satisfaction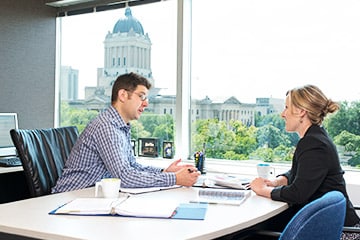 When you hire Strauss as your association management company, you no longer need a physical office, equipment, or staff. The Strauss address becomes your address; the Strauss team becomes your team; and Strauss will appoint an Executive Director to lead your affairs. With Strauss, associations can expect expertise, vision, accountability, and access.
As association managers, we aim to build the value of associations from the perspective of members; and build the value of industries and professions in the eyes of other stakeholders. We know that a healthy, high-performing association can create demand for the services its members offer.
Strauss works with its clients to achieve organizational objectives and operational efficiencies. A 2009 study1 estimated that associations led by an association management company (AMC) spend considerably less money than associations that manage their own operations. In fact, associations that are run by an AMC can typically spend 50% less of their revenues on operations.
1AMC Managed and Standalone Organizations – A Sibling Study, By Michael T. LoBue, CAE, AMC Institute.

---
The Strauss Expert Advantage
In response to feedback by members of the Pedorthic Association of Canada (PAC), Strauss led the development of the profession's first Clinical Practice Guidelines in Canada. The manual has advanced the profile of the profession and has helped to build bridges with doctors, insurers, and other stakeholders.
As PAC's association management company, we helped grow the annual dollar value of association sponsorships by six times.
As the association management company for the Recreation Vehicle Dealers Association of Manitoba, we helped change the definition of an RV "dealer" in the province thereby levelling the playing field to the benefit of the association's members.
By understanding policy trends, consumer trends, and the differences in healthcare regulation between provinces, we have helped our healthcare association clients strategize effectively.
Through our strategic connections, we have developed communication strategies that have helped change policy.
---
What Defines Success for a Healthcare or Business Association?
It offers dynamic, current professional development programs and materials that engage members.
It maintains a high profile and generates interest in the services and products offered by its members.
Prospective members are happy to join and eager to be involved.
The media, regulators, and others turn to the association for comment, feedback, and expertise.
Finances and administration are well-managed by professionals.
Relationships with suppliers and advisors are strong and purposeful.
Meetings and events are well organized and well attended.
Communication with members is smooth, consistent, and effective.
Governance is effective and well-conceived.
Revenue streams are strong and new opportunities are explored and adopted.
---
What Strauss Does
Manage professional development programs for your membership.
Provide expert guidance to your Executive and Board.
Lead the budget and business planning processes.
Represent the association to regulators, the media, and other third-parties.
Design and implement new revenue streams.
Develop and implement recruitment and retention strategies.
Manage your website, social media presence, and all member and external communications.
Organize all meetings and events.
Securely manage all organizational files and data.
Provide all financial and administrative services.
And much more.
---
AMC Accreditation press release