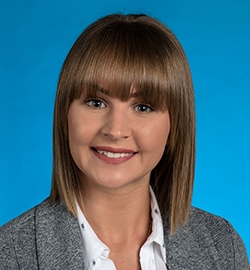 Victoria K. Peers – Association Coordinator
Contact:
204.975.8207
---
As an Association Coordinator, Victoria Peers is proud to share her expertise in logistics and planning as she builds meaningful relationships with clients, board member, and colleagues.
Victoria has excellent communication, organization, and problem-solving skills.
Victoria's customer service background allows her to provide exceptional client service in challenging and demanding situations.
As a graduate from the University of Manitoba, Victoria has nurtured her love of research, writing and editing.
She is currently working towards earning her Professional Editing Standards Certificate through Queen's University.
Victoria works closely with the Entomological Society of Canada, The College of Pedorthics of Canada, MMPDA and RVDA to create and advance trusting and effective relationships.
Victoria loves working on-site and with the planning of Strauss-managed events and is always eager to get involved in new opportunities in event management world.
I strive to provide efficient, friendly and accommodating client service in all aspects of my role. There is no job too big or too small that doesn't deserve service with a smile.
Victoria's Blog Posts
Associations often offer multiple membership categories to cover various backgrounds, entrance requirements and preferences within…
Associations that are also credentialing bodies and regulatory colleges will have a Code of Ethics…
Whenever there is a certification connected to an association's membership, it is likely that members…