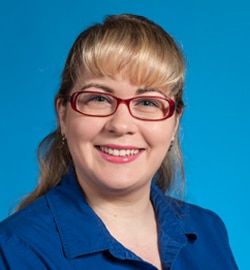 L. Kristi Burke – Project Coordinator
Contact:
204.947.9766
---
As a Project Coordinator at Strauss, Kristi Burke is an expert in logistics, customer service, and technology, which allows her to provide great service and support to our event clients.
Kristi updates and maintains registration systems for many of our events, establishing smooth processes and precise reporting for clients.
Kristi has a degree in Business Economics from Glasgow Caledonian University, with courses in administration, human resources, business management, and marketing.
Kristi has provided administrative support for a number of signature event clients, including:
• CancerCare Manitoba;
• Manitoba eHealth;
• Canadian Athletic Therapists Association Conference;
• Manitoba Immigrant and Refugee Settlement Sector Association; and the
• Rotary Career Symposium.
My goal is to make sure that our clients' events are seamless. I enjoy working with technology to set up registration and reporting systems that make sense and are easy to use.
Kristi's Blog Posts